Baratza Sette 270 is one of the most famous coffee grinders, characterized for providing the user a unique experience to enjoy the preparation of specialized coffee. Baratza Sette works with a high performance in grinding coffee beans, not to mention its price that makes it as a suitable grinder for users, and the below is the user manual of the coffee grinder with conical gear Baratza Sette.
Review and detailed description of the Baratza Sette 270
Conical gear
A 40mm cone gear was made to grind coffee at a rate of 5.3 to 5.5 grams per second; this depends on the adjustment of them. These conical gears withstand and will remain sharp for several years. Moreover, the adjustment mechanism provides accurate results to the gears to guarantee fine grinding.
.
Digital Control Panel
The built-in front control panel with a user-friendly backlit display and a three programmable switch allow the grinding time to be set to 01.0 seconds, simply press the START key and SETTE will give you the exact quota.
Grinding adjustment
The SETTE has 31 levels of adjustment ranging between grinding from espresso to an ordinary coffee drink, with an extra controller that has 9 indicators allowing the user to accurately obtain the ideal espresso. The mechanism of action of the gradual controller and the additional controller is directly connected with the cone drill resulting in instant adjustment and ideal grinding point.
Convertible Tool Stabilizer
The convertible stabilizer integrated the mill allows you to grind directly into your coffee filter, as well as grinding into the basket that came with the grinder or with many drinks devices such as
(AeroPress, Clever,) which distinguishes it from other home coffee grinders. The SETTE grinding basket is made antistatic plastic with a pouring tube for easy pouring of your favorite beverage machine, and the adjustable coffee filter arms can accommodate most sizes of coffee filters and include a built-in stability hook.
Operation and Setup of Brazza Baratza Sette 270
Before using your mill
Before using your Sette grinder for the first time, you should wash the coffee bean bowl and grinding basket with warm water and soap foam. Do not wash the grinding or driller adjustment set. Place the grinder Sette on a flat surface, then put the power cable in the back port of the machine and connect the cable in the AC plug at the correct voltage.
Mill work cycle
Sette mill is designed to grind a maximum of 2 pounds (1 kg) per day. And with a 10% espresso duty cycle we want to remind whoever buys a SETTE mill that it is designed for home use (short grinding period).
Start settings
The settings of the gradual controller shown in the table below can be used as general guidelines for the start points. The actual size of the crushed particles under certain settings will vary depending on several factors including roasting point, light and dark beans, fresh coffee beans, humidity, type of coffee beans, oil content etc… With use, you will select the settings that suit your taste, drinking style and your favorite coffee beans.
Adjust the espresso grinder
From 3 to 9 will take about 6 seconds to grind a serving of espresso, after which there should be a 60-second period rest that's almost what you can do if you're making sequential rations for one set.
Adjust regular coffee
From 15 to 30 it will take 5 to 30 seconds to grind 150 grams of coffee and then there should be a 60-second period rest. Remember: Maximum is 150 grams for each grind followed by a minute rest before grinding again.
The work cycle described above will work perfectly for traditional home drinks and if you choose to use them commercially you have to think about the SETTE mill work cycle to decide whether it is feasible for commercial use or not.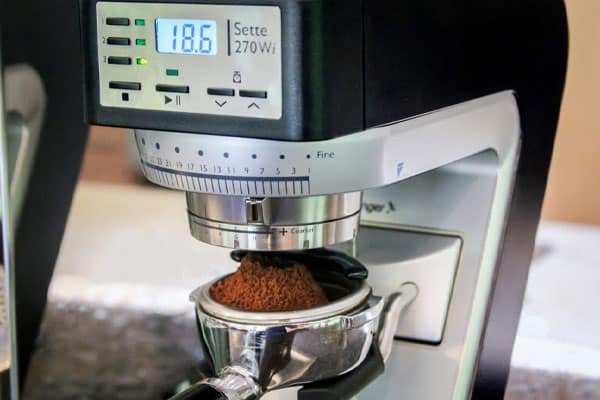 Mill Characteristics
Control screen.
A High-efficiency engine.
A 40 mm stainless steel conical gear.
30 degrees for different grinding.
The capability of closing the coffee stand.
An average size suitable for any workspace.
A highly efficient motor keeps the coffee cool during grinding.
Technical characteristics of the grinder
Rotation speed: 550 rpm.
Voltage: 220-240V.
Electrical frequency: 50/60Hz conforms to specifications and standards.
Gear Type: Conical.
Gear diameter: 40 mm.
Hopper tank capacity: 300-400 grams.
Capacity of ground coffee pot: 160 grams.