Evaporation of milk or evaporated milk is the final result of milk exposure to high-pressure steam from the espresso machine. It is prepared by gradually pumping steam into the milk until the natural fat fades and turns into a wide ring of foam that is a layer of very small milk bubbles
The result is a drink with a smooth texture and ideal for use with "espresso", to make coffee drinks with milk such as latte, cappuccino or cortado, depending on the amount of milk added to the dose of espresso. You can find out the types of coffee drinks with milk and the method of preparation from here.
The correct fumigation will help you in the art of drawing on the coffee and will give the prepared drink a wonderful taste, also milk is an essential addition to espresso coffee in milk coffee drinks. We will learn about the method of steaming in detail.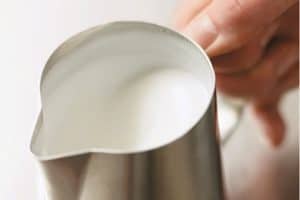 The basics of fumigating milk
Any barista or coffee maker must know some important basics for evaporation and adhere to them so that the evaporated milk becomes ideal for mixing it with espresso. And these basics are as follows:
Milk with a temperature of 5 °C should be used to get the best possible result
The formation of small bubbles after the access of air at the beginning of evaporation until the appropriate foam is formed.
Rotational wrap of milk during evaporation until the temperature reaches from 70 to 65 °C, and you should avoid raising the temperature of the milk above 70 °C so that the taste of milk does not change.
For drawing on coffee there are 3 basic stages:
1- Perfect foam when steaming milk.
2- The ideal "espresso", you must extract a creamy espresso so that you can draw on the cup.
3- Pour milk on the "espresso" in a creative way and meander, and with practice you will be able to draw on the cup of coffee. We will mention more details about these three stages in the following:
Stage I: Making the perfect foam
1- First you have to use cold milk with a temperature of 5 °C to get the best result.
2- Place the nozzle of the evaporation stick inside the jug (Betcher) in a depth not exceeding 1 cm and move the jug during this process to avoid the formation of bubbles too much.
3- Continue stirring until the milk reaches a temperature of about 65 °C and then stop, finally give the milk a few seconds until it settles down and becomes more velvety.
Stage II: Preparation of "Espresso"
You must prepare and extract a successful and creamy espresso so that you can draw on a coffee cup, and to know how to extract espresso click here.
Stage III: Espresso Drawing Using Milk
The art of drawing on coffee depends on dexterity and training, and here are some tips for drawing well on coffee:
Start pouring a little milk until the cup is full almost beyond the middle. Now pour the milk slower and try to move from top to bottom, and do not rush in pouring milk. Use ripples to get great shapes, and with training and practice your hand will ease a little and you can corrugate more.
Drawing on coffee at first may be a bit difficult Latte art, but with training and practice you will master the art of drawing. All barista coffee makers at the beginning of their career have been well trained in preparing espresso and good steaming of milk, and now we see in most commercial places for the preparation of coffee creative people in drawing, even at home (Home Barista) we find that some of them have mastered the art of drawing, only it needs some practice and training, and now you can prepare your coffee and with professionally evaporated milk.