Do you enjoy coffee? How do you like it? Hot? Iced? Iced coffee has a love hate relationship with some. Some fearless coffee drinkers only drink it hot. They feel it is a sin to drink it any other way. Then there are those that will drink it any way they can get it– even in ice cream!
Then you have those who do not care for coffee but will drink it by the gallon if it is iced. Which one are you?
Iced coffee is a fad, but it is here to stay? With the many different combinations and recipes, one just has to set out to try all of them and will be drinking iced coffee for over a year without repeating the flavor. Enjoy these delicious iced coffee recipes
HOME COLD BREWED BASIC ICED COFFEE
Learning how to create delicious iced coffee right from home is really easy. You just need to allow some good prep time in order to create a drink that rivals those found in the famous baristas.
A real iced coffee takes time, to gather the full flavor, so when you take a sip you will instantly savor it Many times when people try to make iced coffee from home they end up with a drink that is either too bitter or too sweet.
The key is in finding the perfect recipe, the right amount of ingredients, and just the right touch when making it.
For this recipe, the coffee needs to be cold brewed. Put away the coffee maker, you will not need it for this brew. If you want you can put the grounds in a coffee filter, and fill the pot with cold water.
Dip the coffee filter down into the water, and leave it soaking overnight. This keeps the coffee flavor smooth and the need for extra sugar away. Another way to make it, just add the grounds directly to the water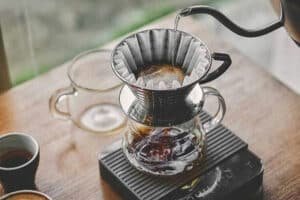 cold brewed coffee
1/4cup of coffee grounds (do not use the fine grounds) 1 cup of cold water (filtered water is best) Either pour the grounds into the coffee, use the filter dipped in the water, or just add them directly to the water (preferred method). Let it sit overnight. The following morning, add 1 more cup of cold filtered water.
If you have the grounds mixed in with the water, you will want to pour the coffee through a filter or strain to pull out the grounds. Now you are ready to create with this basic mixture. Try adding variations of these until you find a flavor you enjoy: Sugar Milk Simple syrup – vanilla or chocolate (or both).
COLD BREW VANILLA ICED COFFEE
By now you may be thinking that making an iced coffee should be as quick and easy as brewing a fresh pot of "hot" coffee, then pouring it over a tall glass of ice, and voila, iced coffee. Right?
Well, you can do this, if you like weak, watered-down coffee. You are more likely to spit this out and pour down the drain than to drink it.
If you are a lover of the brewed coffee flavor, you do not have to sacrifice your flavor just because you want it iced. Cold brewing a coffee, gives you the same wonderful full flavor of hot brewing, only this works better for the iced coffee recipes. Cold brewing takes a while; it is not a quick fix. If you want a quick recipe, then you need to look at one of our instant recipes that call for instant coffee. This particular recipe calls for the slow cold brew coffee. Once you taste it, you will be glad you allowed the time to make it.
Cold Brew Coffee Preparation
Pour 1/4 cup of your favorite "vanilla flavored" coffee grounds into pitcher.
Pour 1 cup of filtered water over the grounds, stir and refrigerate overnight. For best results, allow to steep for at least 10 hours.
The next morning, or after the 10 hours of steeping, pour in another cup of cold water. Stir.
Pour into another pitcher, through a coffee filter, or cheesecloth to catch the coffee grounds.
Other Ingredients
Half-and-half => Milk => Sugar (or sugar substitute) => Vanilla extract There are no measurements, because this is the part where you will flavor to your liking. Start with about 2 tablespoons of the half-and-half in the glass. Pour in the coffee, leaving room for however much milk you care to add. Add in a teaspoon of sugar (more or less, depending on your tastes). Add a splashing of the vanilla extract. Stir and enjoy. Adjust the ingredients to your own desire.
SIMPLE COLD BREW RECIPE
PERFECT FOR THE BREWED FLAVOR, BUT INSTANT AVAILABILITY
This recipe is for a simple cold brew coffee that you can store and keep on hand. Once you make this recipe will last for several weeks in the refrigerator.
All you will need to do is flavor it. This is a good recipe for when you will want iced coffee available quickly.
It also allows you to experiment with different flavors. It is good for the need to have it quick and convenient
The prep time is the only time you will need for creation – that is overnight
Make sure you have a large enough container to store the coffee, about two gallons. You can store in 2 containers in the refrigerator.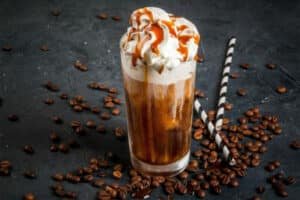 Ingredients
=> 1 full pound of your favorite ground coffee
=> 8 quarts of cold water
=> Your choice of flavors – suggestions: half-and-half,
sweetened condensed milk (like Eagle brand), sweetened syrups like chocolate, caramel, butterscotch, and or flavored coffee creamers.
Pour the water into a large container (which can be a large cooking pot, something with a lid to cover while it "brews") with the coffee grounds. Stir.
Allow to sit overnight. It is okay to sit out, or if there is room you can put in refrigerator, but not necessary during the "brewing" process.
The next morning, sieve the coffee by pouring through a strainer, cheesecloth or a coffee filter. You do not want coffee grounds in the brew.
Pour the mixture into a container to store in the refrigerator for a couple of weeks (three weeks maximum, after that discard unused drink).The coffee is ready to drink now.
Pour coffee over a tall glass of ice and add the flavoring as you like, as much or little as you like. Enjoy
CARAMEL MOCHA ICED COFFEE
This is truly a rich and satisfying iced coffee drink. If you are a chocolate and caramel lover, this one simply combines the two into a tasty drink that needs to be called a dessert instead.
Really, you will need a spoon for this, sipping is optional. You will not regret trying this recipe and it is sure to be on your favorites for iced coffee.
This iced coffee recipe can work well as a hot beverage too, by trading ice for water. However, this is first and foremost an iced coffee recipe
Prepare to delight your taste buds.
Ingredients
=> 1/2 cup of coffee
=> Dozen ice cubes
=> 1/2 cup of milk
=> 1/2 can of sweetened condensed milk
=> 1 tablespoon of chocolate syrup
=> 1 tablespoon of caramel syrup
=> 1 dollop of whipped topping
=> Cocoa powder (optional garnishment) First, make the coffee. There are several ways to make the coffee and you need to determine which way you would like the best, which one would taste best.
The first way (and best) is to hot brew the coffee, then allow to chill in the refrigerator. Alternate methods, cold brew over night, or use instant coffee to create 1/2 cup of coffee.
Chill a tall glass in the freezer while prepping the drink. Pour the chilled coffee into a blender along with the ice cubes, sweetened condensed milk, milk, and the chocolate and caramel syrups Blend until well mixed. Pour mixture into the frosty tall glass
Top with whipped cream and garnish with either a drizzle of chocolate or caramel syrup or a dusting of cocoa powder. (If you are daring, garnish with all three.) Then take a spoon and enjoy!
keywords
iced coffee. iced. ice. cold brew. brewed. served. cups. jun. delic