Kalita is named after the company (Kalita). It is a corrugated tool for distilling coffee, and it comes in two sizes: (155) ml, prepares from one to two cups of coffee with the tool of Kalita, and the other size (185) ml prepares from one to four cups of coffee. The coffee prepared with this tool is characterized by high quality, splendor of taste and ease of preparation if you stick to the correct amount and method of extraction,
The coffee filtered with the "Kalita" is stronger in flavors than the tool "Chemex" and "V60" due to its light filter, and if you like the strong flavor of coffee, you can prepare coffee with the tool "Kalita" and enjoy the wonderful taste of coffee. We will mention a recipe for preparing coffee with this tool in the following: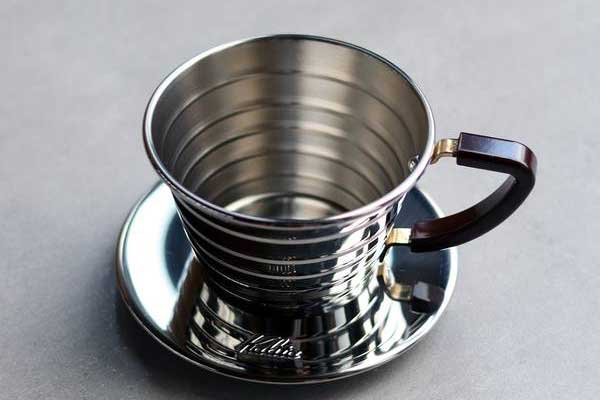 Recipe for preparing coffee with Kalita tool
21g coffee
Grinding medium smooth
Water temperature: 94 ° C
Preparation time: 3 minutes
Equation ratio 1:15
Preparation
Weigh 21 grams of coffee and grind it to a medium smooth degree, put the filter of "Kalita" and add some hot water on the tool "Kalita" to wash the filter and to heat the tool slightly before use and then pour it.
After that put the ground coffee on top of the filter, the first pour by moistening by pouring water 42 ml for 30 seconds equally, the second pour up to 180 ml of water, then the third pour up to 265 ml of water, finally the fourth and last pouring up to 315 ml until the extraction process is complete for 3 minutes,
The method of pouring water into the recipe
First casting: moisturize outwardly to the ends by 42 ml and wait for 30 seconds
Second casting: with low flow outwardly the ends up to 180 ml
Third casting: with low flow upright in the rings of the ends up to 265 ml
Fourth casting: with low flow rotating around the middle up to 315 ml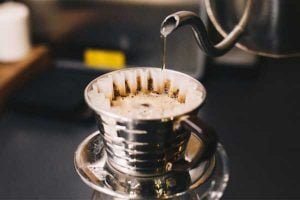 In order to extract the best flavor of the coffee and enjoy the prepared cup, the preparation of coffee should be so accurate in terms of the time of extraction, the degree of grinding of the coffee and the temperature of the water. One of the basics of coffee preparation is the equation of the ratio in the preparation which is important so that the extraction of coffee is perfect. To know the calculation of the ratio click here.
Now you can prepare coffee with Kalita tool and at home, all you have to do is to provide the necessary tools for preparation, the electronic scale may help you a lot in the preparation process when it comes to calculating the amount of extraction and preparation time.